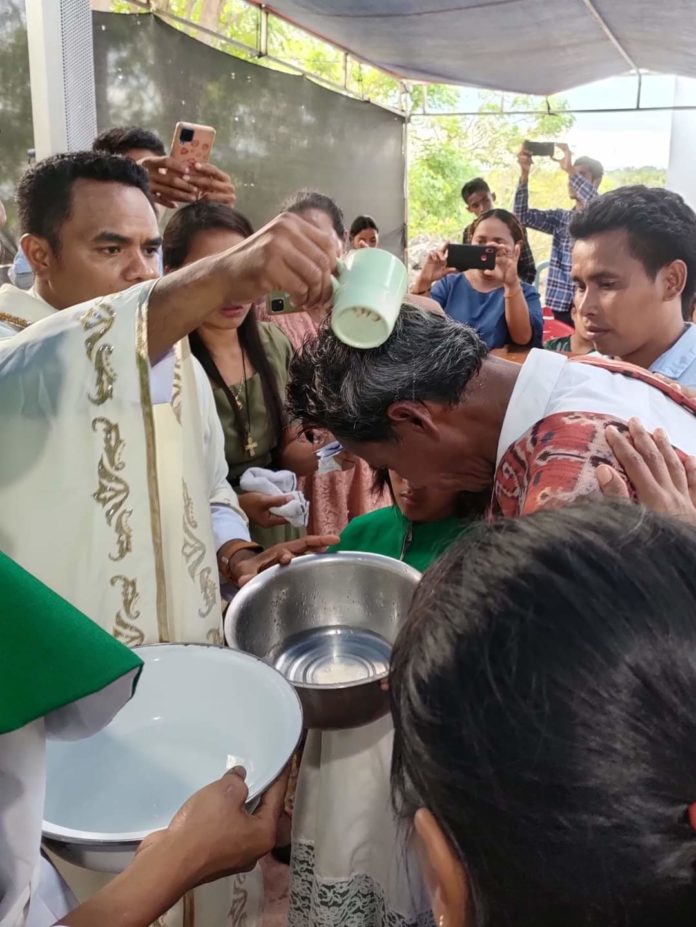 Since Sunday, September 18 2022, the Mission has begun at the Santa Agatha Kilimbatu Station – Waingapu Redeemer Parish.
Seven redemptorist missionaries came and stayed with the people to visit and serve them with various assistance.
The faithful life of the people gets very intensive attention. Various things about the life of faith and the church received attention. All of this is, of course, thanks to the important role of lay missionary colleagues known as TPU.
As a result of these visits and encounters, many devotees were touched and then involved in various mission activities. Repentance in the community is responded to by giving oneself up for Baptism and receiving the sacrament of Holy Communion.
On Tuesday, October 12, 2022, 43 children and 5 adults received the sacrament of Baptism. These five people today are Catholic church members because of their marriage to Catholics. They decided to embrace the catholic faith freely.
Then at the Feast of Saint Gerard Majella, on October 16, 2022, 43 children received Holy Communion for the first time. It was their first opportunity to partake of the Body and Blood of Christ.
Some of these 43 young people have graduated from high school, some have dropped out of school, and some are currently undergoing 5th-grade education from elementary to high school.
For the sake of longing to welcome the body and blood of Christ, they "forget" the feeling of inferiority due to age. God understands their longing. And that is God's work for them.
All the faithful and missionaries rejoiced greatly over this event of the celebration of the faith experienced.
Fr.  Willy Pala, CSsR