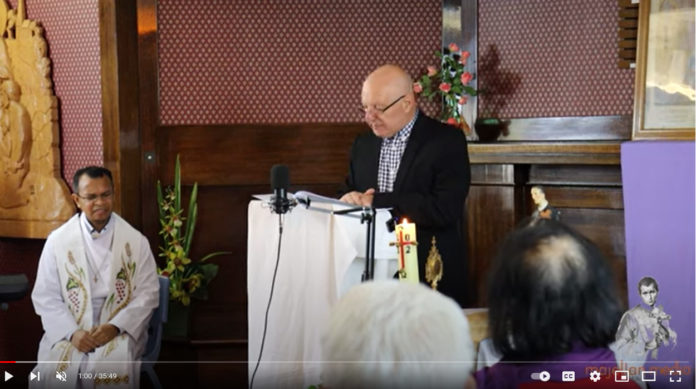 The annual Saint Gerard Majella Blessing from Melbourne was live streamed to the world on his feast day for the third consecutive year.
People were able to view the 30-minute liturgy on Facebook and YouTube. Led by Father Sam Kono CSsR, Redemptorist priests and brothers from the Formation House in Kew, Melbourne provided the music and sang the hymns while there was a special blessing for families and children.
Fr Sam also blessed a collection of prayers and intentions to St Gerard that families had sent in prior to his feast day. The liturgy can still be viewed at: https://youtu.be/CDC5xpAacDg
St Gerard is the patron saint of mothers, expectant mothers and the unborn. He was born in Italy in 1726 and became a lay brother of the order of the Congregation of the Redeemer or the Redemptorists, as they are more commonly known.
Majellan Media CEO Tony Biviano said the past few years had been difficult for families. "This year saw a return to normal after two years of Covid lockdowns but the pressure on people's mental health and wellbeing continues because of increase in the general cost of living so the need for prayer has never been greater," he said.
"On a bright note, the liturgy was held at Majellan House for the first time in three years which was terrific. It had been held there since the early 1960s so reviving that tradition added significantly to the occasion.
"With today's technology the event can now be viewed by many more people which is another way of spreading St Gerard's important message of God's love and hope to the world," Mr Biviano added.
Pope Pius X canonised St Gerard in 1904 and his feast day is held on October 16. His shrine at Materdomini in Italy attracts more than one million pilgrims each year.
For stories about St Gerard's life go to: www.majellan.media/saint-gerard
Further details from Tony Biviano, CEO Majellan Media, at t.biviano@majellan.org.au