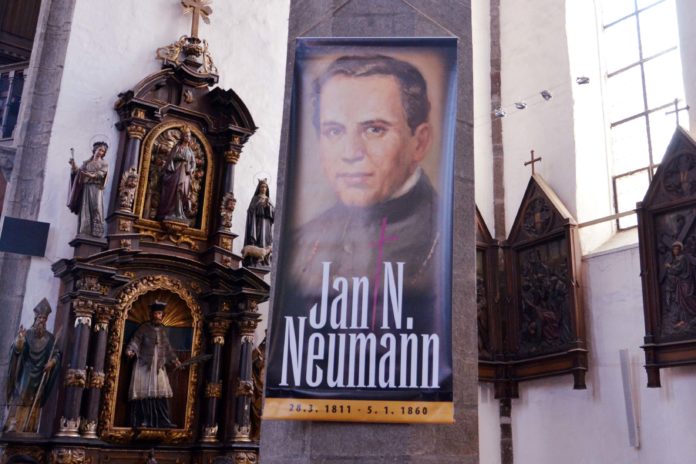 On the day that the church celebrates the memory of St. John Neumann, we offer you a contribution to his life during his time of formation: 1823-1833
John Nepomucene Neumann is an important figure, especially in Czech and American religious life in the nineteenth century. He was born in 1811 in Prachatitz (Prachatice) in the Diocese of Budweis (České Budějovice, Bohemia) into a mixed CzechGerman family. He first studied at the gymnasium in 1823 and later at the higher philosophical studies in Budweis. Here, he also joined the episcopal seminary in 1831, where he spent two years. Influenced by reading the texts of the missionary Friderik Baraga and a personal meeting with another supporter of missionary activities, Hermann Dichtl, he decided to go on missions to the United States. In order to better prepare for this mission, he asked his bishop Arnošt Konstantin Růžička for permission to continue his theological studies in Prague, where he eventually resided in 1833-1835. After returning to his native Diocese of Budweis, he was not ordained a priest for ecclesiastical-administrative reasons, but he continued to prepare for priestly ordination. In 1836 he traveled to the United States, was ordained as a priest, and began working in Williamsville near Niagara Falls.
Among other things, he was in charge of local German-speaking immigrant communities. In 1840 Neumann joined the Congregation of the Most Holy Redeemer, taking his vows in 1842. In 1847 he became head of the province. In 1852 he became Bishop of Philadelphia and remained in this position until his sudden death in 1860.
As early as in 1886, the process of his canonization began. Neumann was beatified in 1963 and declared a saint in 1977, becoming the first male American saint. His legacy is still alive, especially in the American, Czech, German and Austrian environments. Due to his Czech-German origin, this also became a bridge for understanding and reconciliation between Czechs and Germans expelled from the territory of former Czechoslovakia after World War II. He is considered one of the chief architects of American Catholic education. Many educational institutions around the world bear his name.
SUMMARY
This study intends to present John Neumann's study years in Budweis in the years 1823-1833. Above all, it reflects newly and critically on Neumann's diaries and letters, his autobiography, and other sources in confrontation with new knowledge about the various contexts of Neumann's life. Broader contexts are formed by life in the then Habsburg monarchy and the Diocese of Budweis itself.
The narrower context concerns life itself in the town of Budweis. The closest monitored context is the specific educational and formation institutions that Neumann attended in Budweis: the Piarist gymnasium (1823-1829), the Institute of philosophy (1829-1831), and the episcopal seminary (1831-1833).
Rudolf Svoboda, "John Nepomucene Neumann in Budweis, 1823-1833: study at gymnasium, institute of philosophy and episcopal priestly seminary" – Spicilegium Historicum 71 (2023) 67-117
Some Photos of the Community of St Alphonsus that celebrated the Feast on 4th January 2023