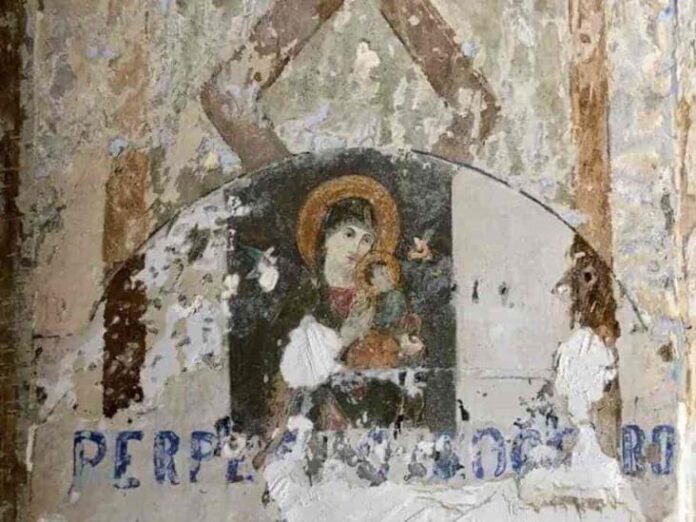 What was born as an effort of the parishioners to rescue the Church of Nuestra Señora de los Dolores La Pastora, in the historic centre of Veracruz, became a surprise for the community and amazed everyone.
In this temple, two religious images were found that are presumed to have been covered for more than 200 years, as well as details that decorate the internal walls and that will be left uncovered to recover the image it had in the early days of its foundation, between the years 1700 and 1800.
The person in charge of the project says that when they began to scrape the walls to carry out the painting work, they noticed the appearance of blue fretwork with golden details. The appearance of the fretwork was followed by an image of the Virgin of Perpetual Help and another of Divine Providence, both of which are in a perfect state of conservation.
The church of La Pastora was inaugurated after 1700 but suffered a fire and was abandoned for many years. However, it was in 1883 that a businessman of the time contributed the money necessary to rebuild the church, which was inaugurated with the name of Nuestra Señora de los Dolores La Pastora, thus becoming one of the oldest churches in the city.
Redemptorists in Mexico
On March 8, 1908, the first Redemptorist missionaries arrived in Mexico in the port of Veracruz, which later became the first vice province in Latin America. The bishop of that time, who was in Xalapa, gave them the church of Nuestra Señora de los Dolores, La Pastora. The Redemptorist missionaries remained in the church until the Cristero persecution, when they had to abandon the church. In 1959, the Redemptorists returned to occupy the church.
The Redemptorist missionaries stayed until 2012, when they were relocated to the parish of Nuestra Señora de Juquila in El Coyol, west of the city.
(Veracruz newspapers, Agencias de México)
Beyond the news, many commentaries wish to show that the history of Mexico is full of testimonies of faith, an intense Marian devotion and of examples of missionaries who made Our Lady of Perpetual Help known.