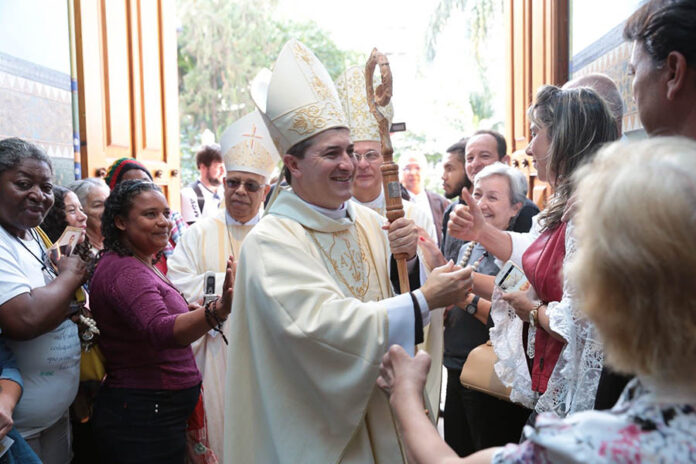 Auxiliary Bishop of the Archdiocese of Belo Horizonte, Msgr. Vicente de Paula Ferreira CSsR, was named Diocesan Bishop of Livramento de Nossa Senhora (BA), this Wednesday, February 1, by Pope Francis. Bishop Vicente will succeed Msgr Armando Bucciol, who had his request for resignation accepted by Pope Francis also on Wednesday.
Msgr. Vicente de Paula Ferreira, C.SS.R., was born on October 27 1970, in Araraí, Diocese of Cachoeiro de Itapemirim, in the State of Espírito Santo, Brazil.
He studied Philosophy at the Universidade Federal de Juiz de Fora (UFJF), obtaining a Licentiate and a Degree in the Science of Religion. He then studied Theology at the Faculdade Jesuíta de Philosophia y Teologia (FAJE) in Belo Horizonte and specialised in Psychology at the UFJF.
He made his Religious Profession as a Redemptorist on December 12, 1992, and was ordained a priest on November 16, 1996.
He has held the following positions: Vocation Promoter (1997); Formator of the Pre-Novitiate (1998-2002) and Aspirantate (2003-2005); President of the Union of Redemptorists of Brazil (2005-2011); Provincial Superior of the Province of Rio de Janeiro-Minas Gerais-Espírito Santo (2005-2014); Member of the Alphonsian Academy of Rome (2012-2017); Formator of theology students of the Redemptorist Congregation (Province of Rio) in Belo Horizonte (2014-2017).
Elected titular Bishop of Castra nova and Auxiliary Bishop of Belo Horizonte on March 8, 2017, he received episcopal ordination on May 27, 2017.
(source: Press Office of the Holy See)