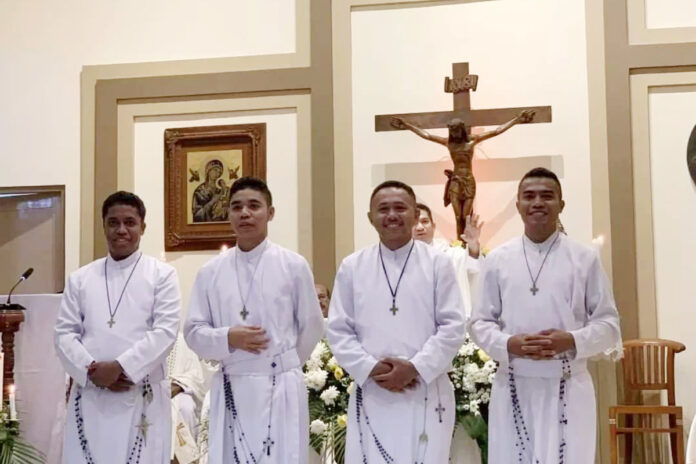 On a lovely day, January 27, 2023, at the Wisma Sang Redeemer, Yogyakarta, four young Redemptorist brothers made their perpetual vows.  They are Bro. Dominic Maximus Bulu, Bro.  Paul Tukan, Bro. Nardi Liman, Bro. Don Lorenso Jaga Kelen.
These four young confreres come from the islands of East Nusa Tenggara Province, southern Indonesia. Two of them came from Flores and two others each from Sumba and Lembata.
They took up a motto from Jeremiah 1: 7
"Do not say: I am young, but to whomever I send you, you must go, and whatever I command you, you must speak".
The Eucharistic celebration was presided over by the new Provincial, Fr. Jack Umbu Warata. This was the first perpetual vow he officiated. In his homily, he underlined their motto, that they should not be afraid because God is always with them.
Secondly, as Redemptorists, we are missionaries of hope. "Your youthfulness is the main capital to build and give hope in our world today," said Jack. At the end of his homily, he reminded them of their main task, which is to "take care of souls", especially the poorest and most abandoned.
The celebration of perpetual vows was attended by 400 invitees. They were confreres, families, and friends around Yogyakarta. There are 4 special guests who came from  Kirchellen, Germany.  They are partners of Wisma Sang Redeemer who always support the education of our students.
This celebration took place in a lively and joyful atmosphere with recreation and music. All presents felt the warmth of brotherhood and friendliness of the Redemptorists.
Let us continue to be missionaries of hope everywhere.
Fr. Willy Ng Pala CSsR