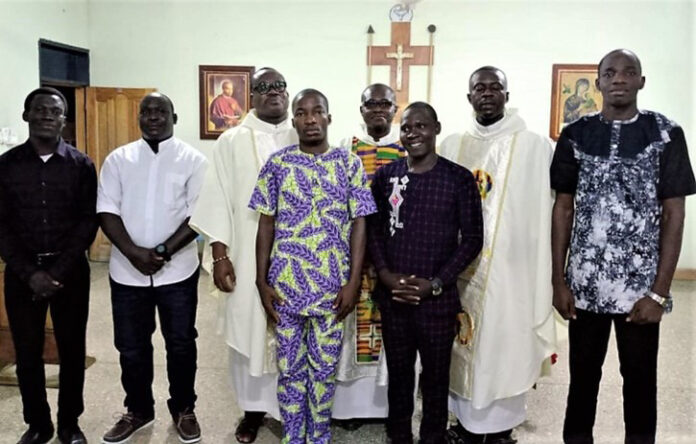 VICE-PROVINCE D'AFRIQUE DE L'OUEST AND VICE-PROVINCE OF NIGERIA
On the eve of the feast of our Founder, St Alphonsus Maria De Liguori, and the memorial of St. Ignatius of Loyola, the Redemptorist Vice-Province D'Afrique de L'Ouest and Vice-Province of Nigeria celebrated with joy as Five of our Postulants were accepted into the Novitiate. These brothers, namely AGANI Ibukun Kègnidé Côme, APPREY Emmanuel, KEKE Abel Noël, NIKIEMA Wendkouni Aimé, and YAMEOGO David, embarked on their journey to discern their vocation in the Redemptorists Congregation on Monday 31st May 2023, at the Common Novitiate Community, Ghana (Ejisu-Kubease). It was a profoundly special moment in their vocational journey, signifying their transition from the postulancy to becoming novices and aspiring candidates for the Religious life and subsequently the Redemptorists.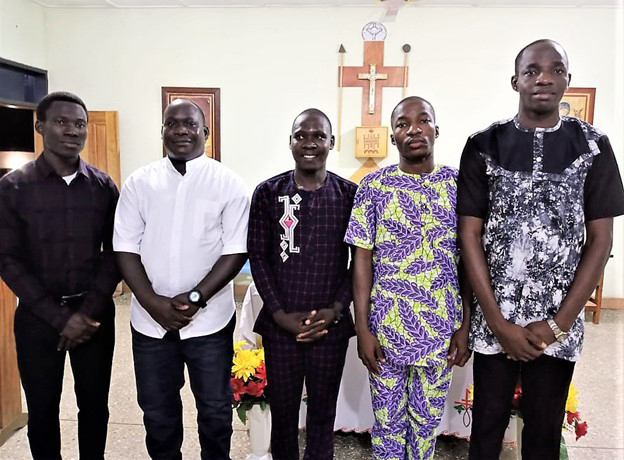 In the homily, Rev. Fr. SEYDOU Ibrahim, the Vicar (Vice-Provincial) of the Redemptorists of D'Afrique de L'Ouest, who presided over the Eucharistic Celebration, advised the Five New Novices that the Novitiate is a time to deepen their relationship with God through prayers.
Once more, the Vicar (Vice-Provincial), urged them to make the most of this time to cultivate and improve their cognitive abilities by engaging in reading, particularly the works of St. Alphonsus who devoted much of his time to writing numerous wonderful pieces. He concluded by reminding our Novices that they are primarily responsible for their own development and well-being. Thus, he encouraged them to love God and protect themselves from engaging in actions that could hinder a positive Novitiate experience.
The celebration was graced by the presence of some of the Novice Masters, namely Rev. Fr. OUASSA Minama Ghislain Martial C.Ss.R., along with his assistant Rev. Fr. Ejiro Imonisa Henry C.Ss.R., the Student Body, and the Novitiate community who came to pray and celebrate with our new Novices. Following the Celebration, on behalf of the Superior of the Community, Rev. Fr. Pascal Wendpuire Tiendrebeogo C.Ss.R., the Novitiate Master, expressed gratitude to the Presider, Rev. Fr. Ibrahim, for accepting to officiate this esteemed occasion.
In accordance with our tradition, following the Mass, the newly accepted Novices took on their roles as ''centre of celebration" and were joined by others for a photo shoot, capturing everyone beaming with broad smiles – all to the greater glory of God!
Office of Communication of the Vice-Province d'Afrique de l'Ouest