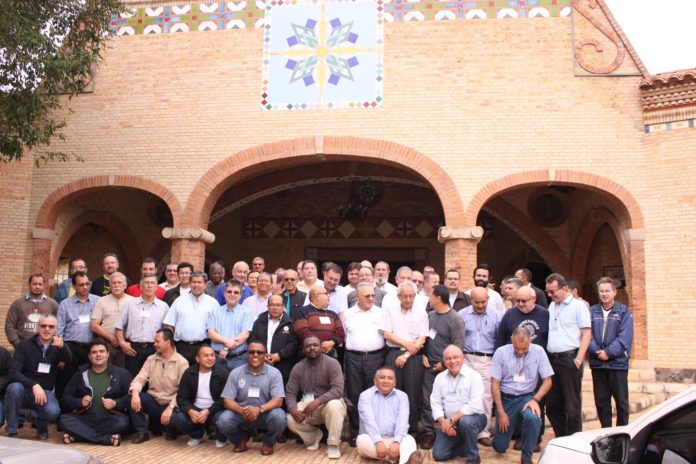 (Atyrá, Paraguay, May 7, 2016) – Redemptorist missionaries stand for the Socio-Political rights in Brazil.
"The Spirit of the Lord is upon me, because He has anointed me to bring good news to the poor." (Lk 4:18)
1.- The major superiors and other representatives of the 26 Provinces and Missions of the Congregation of the Most Holy Redeemer, from all the countries of Latin America and the Caribbean, met during the General Assembly, on May 3-4, 2016, in the city of Atyrá, Paraguay,  and reflected about evangelization on this continent.
2.- Moved by the call to proclaim of the Gospel of Jesus Christ and called to evangelize the poorest, according to our Redemptorist charism, we voice our deep concern for the grave political, ethical and moral crisis in Latin America, which is now impacting Brazil. Systemic corruption in public and private institutions, strongly influenced by political parties, is an evil that must be extinguished once and for all. Hopefully the ongoing investigations, while respecting the right to defense, will determine who is guilty and hold them duly accountable. However, any decision that compromises constitutional principles will not be the best solution to this crisis, which is, primarily, political.
We are seriously concerned as we follow the partisan-political position aimed at impeaching the President of the Republic, who was elected by popular vote. This option may well harm the progress that Brazil has achieved in recent years regarding social policies. What is at stake at the moment is not the changing of the political system, which needs comprehensive reform. Rather it is a power struggle between forces strongly marked by policies that would remove workers' rights and push millions of Brazilian women and men toward extreme poverty.
With this statement, we emphasize that the forces that threaten democracy, markedly conservative with regard to social advancements, want to implement economic policy that favors market forces, all under the guise of defending the ability to govern and political stability, and overcoming economic crisis. One can hardly consider legitimate a government that takes control without the popular vote.
It is imperative that democracy be respected. In Paraguay one also sees the perverse consequences and suffering of the people due to a process with many similarities to what is happening in Brazil.
Another crucial issue we observe is the manipulation of public opinion by the media. The international and alternative media provide more information and better analysis of the real situation in Brazil than the Brazilian press.
We summon everyone to overcome this difficult, historical moment through dialogue. We reiterate our respect for and confidence in the capacity of Brazilian institutions to provide the leadership needed for the urgent and necessary journey to consensus.
In Christ, our Redeemer, we say good-bye, with our best wishes for justice and peace for the beloved Brazilian people.
Redemptorist Missionaries of Latin America and the Caribbean
Fr. Manuel Rodríguez Delgado, C.Ss.R.
Coordinator of the Conference of Latin America and the Caribbean
Fr. Rogério Gomes, C.Ss.R.
President of the Union of the Redemptorists of Brazil
Fr. Mauricio Pizarro, C.Ss.R.
President of the Union of the Redemptorists of southern Latin America
Fr. Felipe Santiago Burgos, C.Ss.R.
President of the Union of Redemptorists of northern Latin America and the Caribbean
(Traduction: joseph dorcey)