The November edition of Reality Magazine is now available.
It is a very special editon for all involved in Irish Redemptorist Publishing as it marks the 80th Birthday of Reality Magazine and indeed the publishing ministry in Ireland. We give thanks for all the Redemptorists and Co-Workers who have helped Redemptorist Communications reach the spritely age of 80. We look forward to many more years of publishing. The birthday edition focusses on the many aspects of Religious Communication today, it also contains an insert of some of the articles from the first edition of The Redemptorist Record. We hope you enjoy reading it.
#Redemptorists #80thBirthday #Publishing #Reality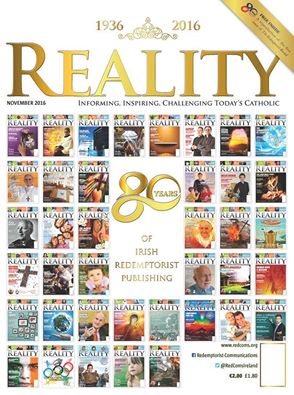 Reality November 2016:
The first part is the November edition of Reality which is devoted to how we can proclaim the good news of the Gospel with the help of modern media. Dr John Horgan, later Labour TD, member of the European Parliament and first Press Ombudsman, was a young journalist in the Irish Times when he was asked to cover the final session of the Second Vatican Council. That was the first time the Church brought the media to observe and report on its workings and the result was revolutionary. Dr Hogan remembers many of the stirring things that happened at the Council more than fifty years ago with respect and humour. Fr Tom Rosica, a Canadian priest worked for the Vatican Press Office and is head of Salt and Light Communications that uses radio and television as well as the print media. Other articles describe the challenges and opportunities of Irish local radio and modern social media.
The second part of our birthday card is an edited edition of the first number of the Redemptorist Record which eventually became Reality. It is a bit of our history but you may find it retains a certain freshness and interest. Happy reading!
(http://www.redcoms.org/product/reality-november-2016/)