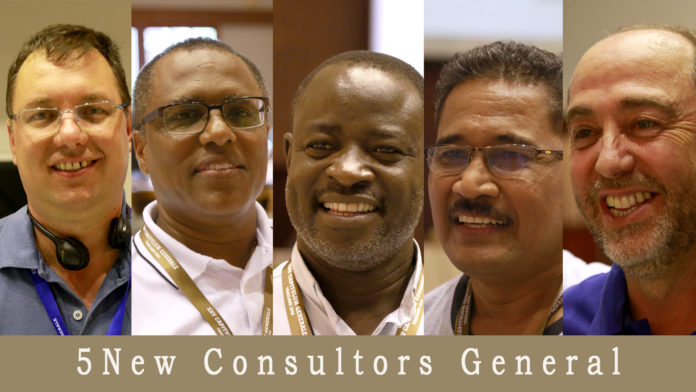 The General Chapter, now that Fr. Michael Brehl has been elected Superior General, today took on the responsibility of electing the members of the General Council. Six Consultors must be elected, taking into account the geographic reality of the world-wide Congregation.
At present there are five Conferences of Redemptorists. Each Conference was asked to propose three names as possible General Consultors. The entire Chapter body then votes for all five Consultors. Interestingly enough, the first name proposed by each Conference became the elected General Consultor.
The five Consultors are: Fr. Nicolas Issifi Ayouba Martin from the Vice- Province of Africa West for the Conference of Africa & Madagascar; Brother Jeffrey Rolle from the English-speaking Caribbean (Baltimore Province) for the Conference of North America; Fr. Rogerio Gomes from the Province of Sao Paulo, Brazil, for the Conference of Latin America; Fr. C. Alberto Eseverri from the Province of Madrid for the Conference of Europe; and Fr. Sebastian Ani Dato from the Province of Indonesia for the Conference of Asia/Oceania. Fr. Alberto Eseverri and Brother Jeffrey Rolle were re-elected to the Council; the other three are new.
To everyone's pleasant surprise all five candidates were elected on the very first electoral ballot where 50% + 1 votes were needed. Fr. General was the first of the Assembly, followed by everyone, to congratulate each member of his new Council.
And, you inquire, what about the sixth Consultor General? Well, we will need another electoral process for that Consultor. Stay tuned!
Fr. Mark Miller, CSsR