A meeting of the Assembly of the Conference of Europe took place in Perth, Scotland, following the Third Phase of the General Chapter on 8th and 9th September, 2017. Present were the Superior General and two Consulters General, the Coordinator of the Conference and the members of the Assembly.
The moderators reminded us that one of our first tasks was to elect of a terna of three confreres to present to the General Government. After the balloting was completed in the course of the two days, the names to be forwarded to Fr General are: Fr. Johannes Römelt, Fr. Piotr Chyla and Fr. Ronald McAinsh.
Fr General then addressed the Assembly on the need for a Pastoral Plan of the Conference giving input on the main areas and priorities which should be included.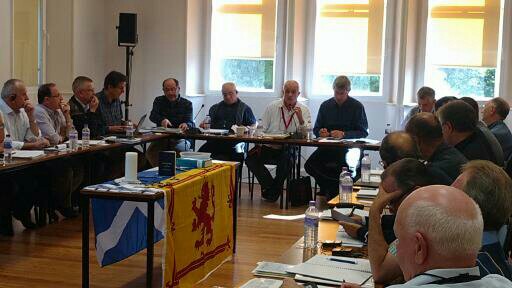 Discussion took place, and points for short term and longer term implementation were shared. Other Assembly business included a report from the Commission for Partnership in Mission, the Finance Secretariate and of course the report of the Coordinator.
Fr. Jacek Zdrzalek after seven years in the post indicated that he believed it is time for a new Coordinator. Fr. General thanked Fr. Jacek for the extraordinary work he had done over the years as the first Coordinator, and many capitulars congratulated Fr Jacek on his communication skills, his hard work and his energy.
During the meeting Fr. General also announced the results of the priorities for Europe which had been received at the end of the Third Phase. Several of the reports were subsequently offered in terms of initiatives that have taken place in the Conference over the past few years. Fr. General then invited the Assembly to vote for possible council members. The names raised were Fr. Piotr Chyla, and Fr. Gianni Congiu with Fr. Ronald McAinsh being the supplens.
Places and locations for the next Assembly were discussed, and it seems that at this stage the Assembly will convene in Bratislava, Slovakia in October 2018.
The meeting concluded with prayer and Fr. General's blessing.
Ronald J. McAinsh, C.Ss.R.