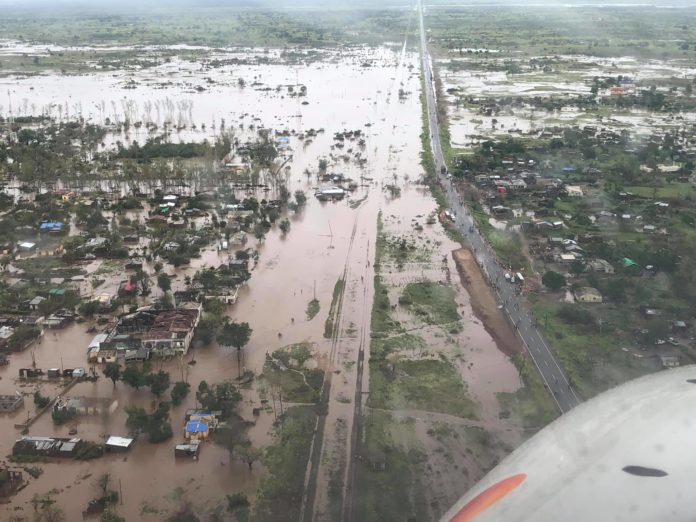 Tropical cyclone Idai causes destruction and death in Mozambique, Zimbabwe and Malawi
(Beira, Mozambique) – A violent cyclone called "Idai" has hit three African states, Mozambique, Zimbabwe, and Malawi, where it has killed at least 350 people in a provisional toll, left hundreds more missing and stranded. The effects of bad weather affect more than a million and a half people, according to UN figures and official government sources. The typhoon is classified category 4 hurricane strength, it manifests itself with intense rains and consequent flooding of the water courses, while the gusts of wind reach even 170 kilometers per hour. Rural areas are the most affected, with tens of thousands of isolated people, destroyed roads, bridges and homes, no electricity or communications.
Scala News receive from SERVE a report of the situation:
We are aware that both the Young Africa Manga campus in Beira and the Dondo Agri-Tech campus have been severely damaged during this weather-related disaster.
Update 18th March 2019: The roofs from the girls hostel, the school and the creche on the Manga campus have been completely destroyed, walls have fallen and the campus is submerged in flood water.
Update 19th March 2019: Dondo has also been severely affected. The Dondo Training Centre has lost its roof and windows, destroying all computers, the library etc. with just the walls remaining. Dondo is running out of food. All roads are blocked due to fallen trees and destroyed roads. There is an urgent need for food, water, water purification pills, cholera medicine and anti-malarials. Young people attending the Young Africa Agri-Tech campus have been unable to leave Dondo due to poor and dangerous conditions.
The school block and hall on the Manga campus are badly affected.
Update 20th March 2019: The roof of the hostel on the Manga campus has been completely ripped off. We do not yet know if the structure is safe.
This hostel was built with support from Irish Aid, Electric Aid, SERVE and SERVE volunteers.
Pope urges support for victims of Cyclone Idai in southeast Africa
"In recent days, great floods have sowed mourning and devastation in various areas of Mozambique, Zimbabwe, and Malawi. I express my pain and closeness to those dear people."
With these heartfelt words, Pope Francis expressed his condolences for the families of the more than 350 people killed by Cyclone Idai, as well as his solidarity with the millions of people affected. The powerful storm made landfall on the coast of Mozambique last Thursday before spreading death and destruction halfway across southeast Africa.
Pope Francis made the appeal at the Wednesday General Audience held in St. Peter's Square.
"I entrust the many victims and their families to the mercy of God, and I implore comfort and support for those affected by this calamity," he said.