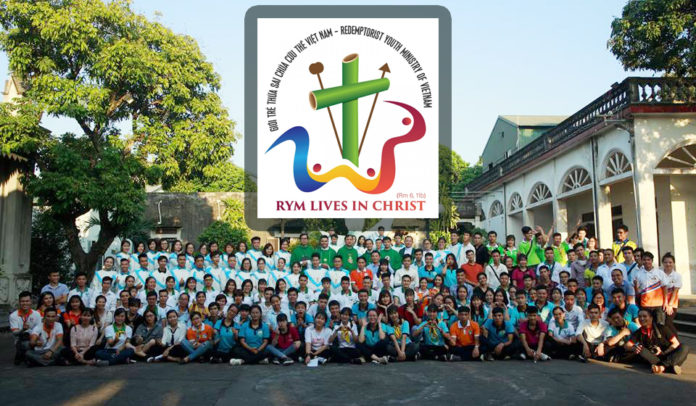 (Vietnam) The RYM groups from three different regions of Vietnam will gather in Hue City from 28th to 29th September 2019. This is the first time the Redemptorists in Vietnam organize such an event. There are three major RYM groups in Hanoi, Hue and Saigon.
This gathering is inspired by the recent positive experience of the ASIOC youth ministers gathering from 20th to 25th July 2019 in Indonesia. Be "ONE" according to vision and action of the Redemptorists is one of the biggest dreams.
The youth ministers would like to introduce the logo of the first gathering with the theme: "RYM lives in Christ."
According to Rev Alfonsus Tran Ngoc Huong, CSsR, he explains the meaning of Logo as follows:
1.    At the centre is the Cross of Redemption symbolizing Jesus Christ who died but resurrected, and lives among us. In addition to the cross, we have the instruments of the Passion, the spear, the sponge. This cross is an imitation of the Redemptorist Cross. This fact implies that  RYM Vietnam significantly immerses in the vision and mission of the Redemptorists.
2.     The cross is designed by bamboos, designing that Jesus Christ has incarnated in Vietnamese culture. Bamboo is quite popular and familiar in the lives of the people of Vietnam.
3.     The official name of RYM is written in both Vietnamese and English for the purpose of expressing the closed relationship of RYM Vietnam and other groups of RYM in Asia-Oceania conference. The members of RYM will gather together around Jesus to live and implement the mission of Jesus in the spirit of the Redemptorists.
4.     Three colourful curves (blue, yellow, red) represent the major rivers of three regions of Vietnam. The curves are integrated into one flow. It means that the youth members now become "One" to share the mission starting from Jesus.
5.     The title "RYM LIVES IN CHRIST" is the theme of our gathering. It is inspired by the letter to the Romans 6:11b and Christus Vivit – a Post-Synodal Apostolic Exhortation to Young people
6.     The colourful design expresses the enthusiasm of youths as Christus Vivit no.108 declares: "being young is not only about pursuing fleeting pleasures and superficial achievements. If the years of your youth are to serve their purpose in life, they must be a time of generous commitment, wholehearted dedication, and sacrifices that are difficult but ultimately fruitful".
7.     The active and youthful character of the logo also designates the spiritual fruits which will be contributed by RYM because they live in Jesus Christ, and "In Him, there is fullness of Redemption – Copiosa Apud Eum Redemptio"
Translated by: QUYEN Dao Vu Hoai, Youth minister
 And Duc Trung Vu, CSsR