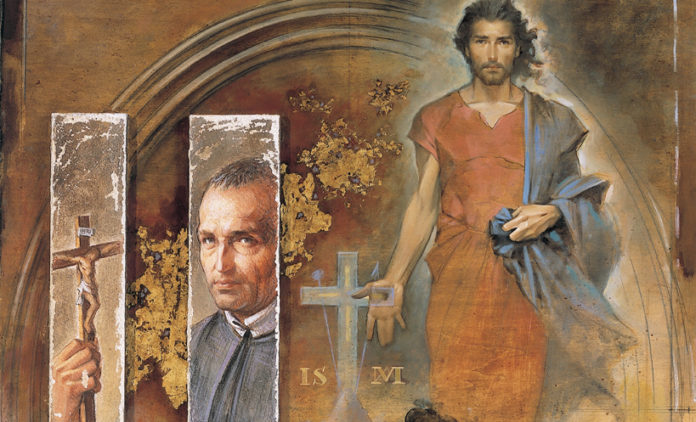 On November 9, 1732, in his beloved Scala, St. Alphonsus Liguori founded the Congregation of the Most Holy Redeemer to follow the example of our Savior Jesus Christ announcing the Good News to the poor. He was 36 years old. His life became one of mission and service to the most abandoned. Pope Benedict XIV approved the Congregation on February 25, 1749.
Watch the message of Fr. Michael Brehl, C.Ss.R., Superior General, on the occasion of Redemptorist Missionary Vocation Day and the Foundation Day.
Alphonsus, with his companions, among whom St. Gerard Majella was outstanding, strove to come to the relief of the spiritual needs, at that time, of the poor of the country districts. These he sought to assist, especially by means of missions, spiritual exercises, and renewals, after the manner of St. Paul (Acts 15,36). – it is how the origins of the Congregation are described in the historical preface to the Constitutions and Statutes of the Redemptorists.
Redemptorist Missionaries continue the charism of Alphonsus in the Church and society. "Strong in faith, rejoicing in hope, burning with charity, on fire with zeal, in the humility of heart and persevering in prayer, Redemptorists as apostolic men and genuine disciples of Saint Alphonsus follow Christ the Redeemer with hearts full of joy; denying themselves and always ready to undertake what is demanding and challenging, they share in the mystery of Christ and proclaim it in Gospel simplicity of life and language, that they may bring to people Plentiful Redemption" (Redemptorist Constitutions, No. 20).
Redemptorists live in missionary communities, welcoming and prayerful, like Mary of Nazareth. Through missions, retreats, parish ministry, ecumenical apostolates, the ministry of reconciliation, and the teaching of Moral Theology, they proclaim the love of God our Father which in Jesus "dwelt amongst us" to become profound mercy and The Word of Life which nourishes the human heart and gives life meaning to live it to the fullest in freedom and solidarity with others. Like Alphonsus, Redemptorists make an obvious option for the poor, affirming their dignity and greatness before God and believing that the Good News of Our Lord is meant in a special way for them.
Nowadays, there are almost 4,800 Redemptorists, 64 bishops, over 3600 priests, and about 330 brothers. They work in 82 countries on all 5 continents, helped by many men and women who collaborate in their mission and form the Redemptorist Family. "Our Lady of Perpetual Help" is the missionary icon of the Congregation.
In addition to St. Alphonsus de Liguori, three other Redemptorists have been canonized: St. Gerard Majella, St. Clement Hofbauer, and St. John Neumann. Fifteen Redemptorists have been beatified: Gennaro Sarnelli, Peter Donders, Gaspar Stanggassinger, Francesco Saverio Seelos, Domenico Metodio Trčka, Vasyl Velychkovskyi, Zynoviy Kovalyk, Mykolay Charnetskyi,  Ivan Ziatyk, Javier Gorosterratzu, Ciriaco Olarte, Miguel Goñi, Julián Pozo, Pedro Romero, Victoriano Calvo. The Vatican Congregation recognized several confreres as servants of God in the view of possible beatification in the future.