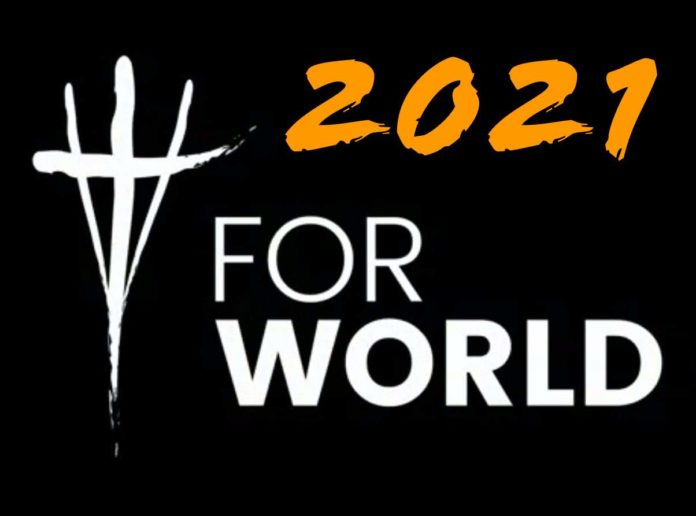 Invitation from the Students of Redemptorist Major Seminary in Tuchów, Poland:
At the end of the year, the program we have prepared for you in the "ForWorld" project comes to an end. This is not the end of course! We enter the new year with new ideas and a very specific plan. We invite you to familiarize yourself with what awaits us in 2021.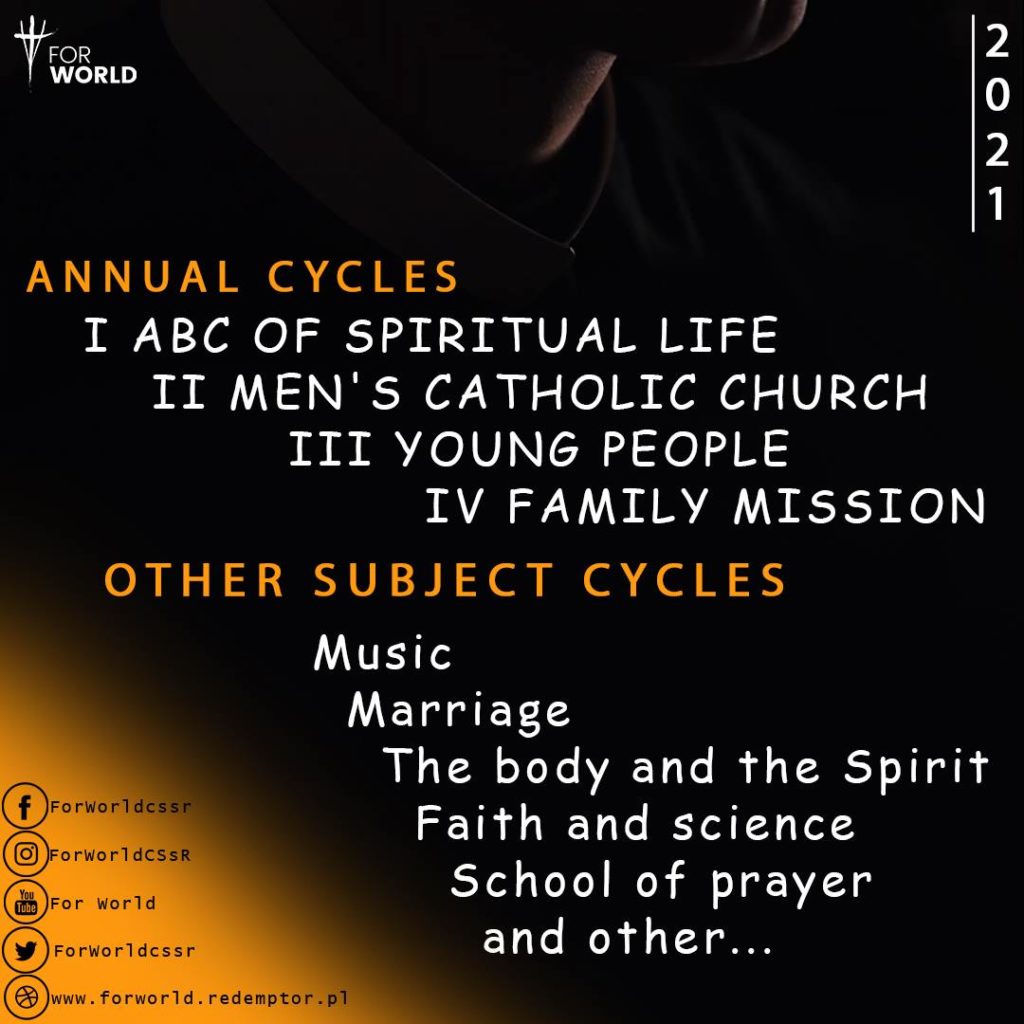 ANNUAL CYCLES:
ABC OF SPIRITUAL LIFE (First Tuesday of the month)
Spiritual Life – What Is It? How to develop them in yourself? How does it affect my life? What does it have to do with human relationships? These are only some of the questions answered by the series "ABC of spiritual life", which will be led by Fr. Marek Kotyński CSsR.
YOUNG PEOPLE (second Tuesday of the month)
In this series, the young go out with Jesus to the young. What is true love? How to love? The reality of love and freedom in the 21st century for a young person? Difficult questions, but we are not afraid of challenges, and through a series of conversations, we will try to find answers to these and many other questions. If you also struggle with such nuisances, this will be for you!
MEN'S CATHOLIC CHURCH (third Tuesday of the month)
You've probably heard the statement that the Church is a bit female Catholic, that something is missing for men. We will prove that it is not so! "Male Catholic Church" is a series of interviews with men who show that a guy has a place and a specific task in the Church. Dariusz Dudek will conduct the talks.
FAMILY MISSION (fourth Tuesday of the month)
From the first community of several people in Scala, the Redemptorists in almost 300 years turned into a Congregation of several thousand members spread all over the world. Despite great distances and different cultures, they form one beautiful family, focused on the same mission: to proclaim Plentiful Redemption to the most poor and abandoned. See how Redemptorists spread the Redeemer's mad love in different parts of the globe.
OTHER SUBJECT CYCLES:
FAITH AND SCIENCE
Science Proves There Is No God? Faith Doesn't Need Science? Nothing could be more wrong! Watch the series "Faith and Science" and see that these two realities interpenetrate and complement each other! Fr Jacek Dembek, CSsR will guide us on this topic.
THE BODY AND THE SPIRIT
Spirit needs a body, and the body needs a spirit. Taking care of both of these planes without harming any of them is a real challenge that every person faces. What to do to be successful? We invite you to the confrontation of body and spirit, a personal trainer and a priest, that is Piotr Czaski and Father Paweł Drobot CSsR.
SCHOOL OF PRAYER
Do you have problems with prayer? Don't you know how to pray? Is the conversation with God during the adoration of the Most Blessed Sacrament difficult for you? Or maybe, on the contrary, is easy for you and you want to know new forms of it? In "The Art of Prayer" you will discover how the Redemptorist Family pray and how they do it continuously. A redemptorist sister and fathers Mariusz Chyrowski CSsR and Maciej Ziębiec CSsR will tell you about all this.
MUSIC
Music accompanies us everywhere. We listen to it on the tram, car, at home or on a walk. It is important to us because it carries certain values ​​and a message. As Redemptorists, we also make music. What? See for yourself! The "Music" series will help you discover our work from a completely different angle! We will touch unique love in it. Welcome!
Certainly, we will not stay only on this, and we will implement the topics that will touch us during the year 2021. We invite you to read what is behind us and follow new content on our websites, channels, profiles:
Website:
https://forworld.redemptor.pl/
YouTube: ForWorldCSsR
https://www.youtube.com/channel/UC4kXfSYLPStTBxiy0mdu1Cw/featured
Facebook: ForWorldcssr
https://www.facebook.com/ForWorldcssr
Instagram: ForWorldCSsR
https://www.instagram.com/forworldcssr/
Twitter: ForWorldcssr
https://twitter.com/ForWorldcssr
Dominik Strychacz CSsR