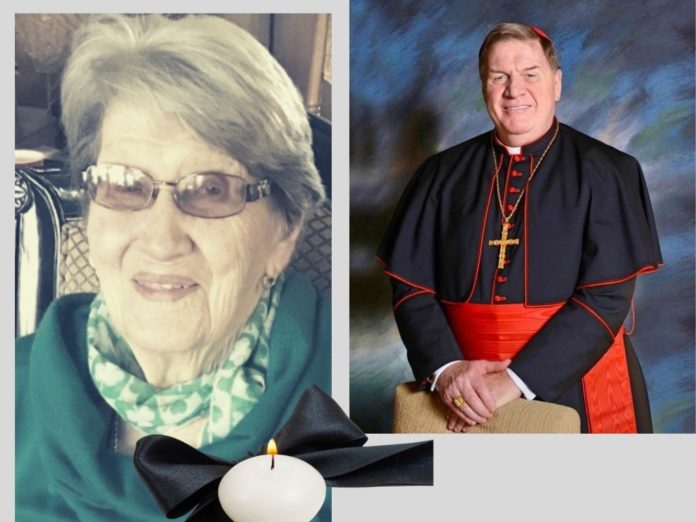 We are sad to announce that Redemptorist Cardinal Joseph Tobin's mother, Marie Terese Tobin, passed away Sunday, May 23, 2021, at age 98. May the Risen Lord grant her eternal joy and peace.
Marie Terese was the beloved wife of the late Joseph William Tobin. In addition to his Eminence Joseph William Cardinal Tobin, C.Ss.R., she was mother to Molly (John) Brusstar, Margo Tobin (Ron Coleman), Kathy (Dave) Vandelinder, Jim (Joan) Tobin, Ann Tobin (Joe Levigne), Pat (Tom) Steinhauer, Tom (Cathy) Tobin, Gerarda Tobin (Brian Joseph), John (Janine) Tobin, Therese Tobin, Dan (Maria) Tobin, Sara (Matthew) Broderick.
The Funeral Mass will be Thursday, May 27, 10 AM at Most Holy Redeemer Catholic Church, 1721 Junction Avenue, Detroit, MI 48209. Live stream available at www.holyredeemerdetroit.com.
In keeping with Mrs. Tobin's lifelong devotion to her Catholic faith, in lieu of flowers memorial contributions, may be made to: Most Holy Redeemer Grade School, 1711 Junction Avenue, Detroit, MI 48209 www.greatschools.org., The Redemptorists / Denver Province, 1633 North Cleveland Avenue, Chicago, IL 60614 www.redemptoristsdenver.org., Visitation Parish, 5407 Comber Sideroad, Comber, ON, N0P 1J0 Canada www.visitationcomber.ca., St. Bonaventure Monastery, 1740 Mt. Elliott, Detroit, MI 48207 www.thecapuchins.org., IHM Sisters, 610 W. Elm, Monroe, MI 48162 www.ihmsisters.org., Pope Francis Center, 438 St. Antoine, Detroit, MI 48226, www.popefranciscenter.org.
We extend our sympathy and solidarity in prayer to the Cardinal and all the family of the late Marie Terese Tobin.
source: North American Conference of Redemptorists Facebook page