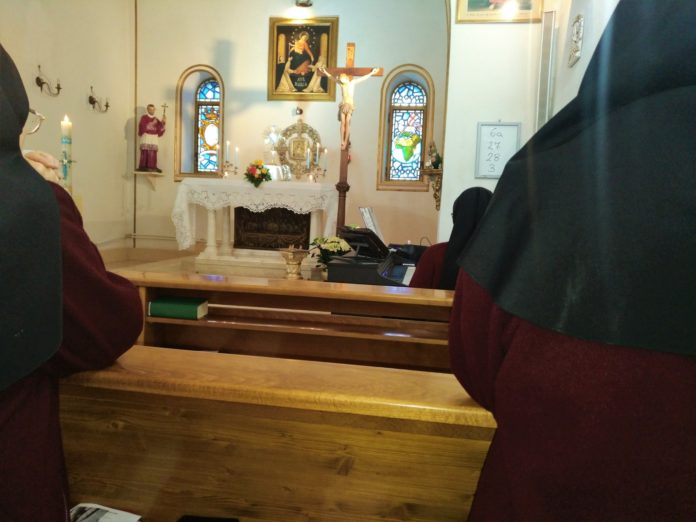 Scala News received a testimony from the Redemptorist nuns of Magliano Sabina on the occasion of the 59th Day of Prayer for Vocations:
Dear Friends,
We would like to share with you the joy of the beautiful meeting we had on Saturday, 7 May, with the participants of the Course for Vocation Formators (Pontifical Salesian University), led by our dear friend Fr Carlo M. Z., with the precious collaboration of Sr Bruna, Head of the USMI of our Diocese.
For the first time in our Church, the Holy Mass was concelebrated by so many priests, and we thank God for this wonderful experience of the universal Church!
Afterwards, we had the opportunity to present our Community, the Redemptorist charism and to share the journey of formation that we carry out in our House, a formation that never ends because it is "a work of craftsmanship" (Pope Francis); it is a journey of conformation to Christ, it is the art of seeking the Face of God in our daily lives.
We have savoured the beauty of fraternal communion, and we will carry in our hearts the gratitude for this meeting which has cheered up all Heaven!
We give thanks for the gift of the lamps that burn on our Altar; it is a symbol very dear to us because "the consecrated life is a story of passionate love for the Lord and humanity…. you contemplative women respond by offering your whole life, living in Him and for Him, "to the praise of His glory" (Eph 1:12). In this dynamic of contemplation you are the voice of the Church, which tirelessly praises, thanks, groans and supplicates for all humanity" (Vultum Dei quarere, n°9
The meeting with the vocation formators was like beautiful anticipation of the 59ᵃ Day of Prayer for Vocations!