From January 15th to the 19th, 2018, the General Government met with the new coordinators of the Conferences to introduce and plan the Congregation's agenda for the rest of the sexennium.
Present at the meetings were also the General Secretary, Father Brendan Kelly, C.Ss.R., and invited were the three former coordinators: Fathers Jacek Zdrzalek (Europe), Guy-Arnaud Agbossaga (Africa and Madagascar) and Manuel Rodríguez Delgado (Latin America and the Caribbean).
The main topics treated at this week-long meeting were the developments in the Conferences and the work of the General Government since the XXV General Chapter; the relationships between the Coordinators, the Consultors, the Conference Assemblies and the Secretariats and Commissions; initial and ongoing formation; the extraordinary visitations; the work of the Commissions for the Apostolic and Restructuring Plans and future planning which includes meetings, commissions, the formation of Superiors, the mid-sexennium meetings, etc.
The week was very productive and provided, especially for the new coordinators (Johannes Roemelt (Europe), Zephyrin Luyila (Africa and Madagascar) and Marcelo Araujo (Latin América and the Caribbean) important elements and instruments for their new ministry to the Conferences and Congregation.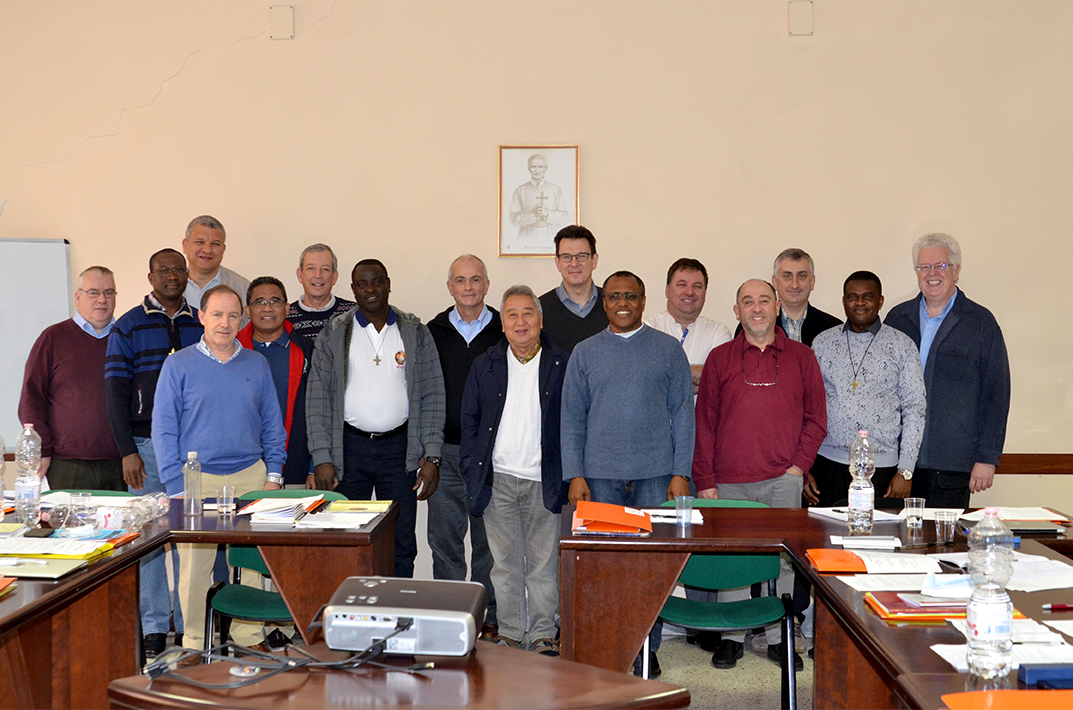 Photo, left to right: Brendan J. Kelly (Secretary General),Guy-Arnaud Agbossega (Former Coordinator, Africa and Madagascar),Marcelo Araujo (Coordinator, Latin America and the Caribbean), Pedro López Calvo (General Consultor), Sebastian Ani Datu (General Consultor), Manuel Rodriguez Delgado (Former Coordinator, Latin America and the Caribbean), Nicolas Issifi Ayouba Martin (General Consultor), Michael Brehl (Superior General), Jovencio Ma (Coordinator, Asia and Oceania), Johannes Roemelt (Coordinator, Europe), Jeffrey Roll (General Consultor),Rogerio Gomes (General Consultor), Cecilio Alberto Eseverri Laspalas (Vicar General), Jacek Zdrzalek (Former Coordinator, Europe),   Zephyrin Luyila (Coordinator, Africa and Madagascar),    Jack Kingsbury (Coordinator, North America),