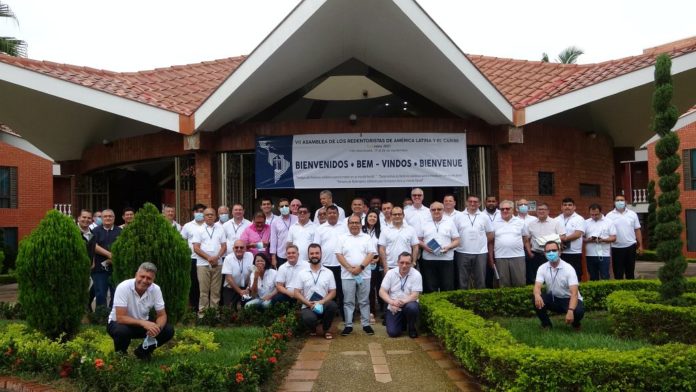 The Provincial Superiors and delegates of the Redemptorists of Latin America met from Sunday 19 September to 26 September at the Retreat House of Villa Marianella, Chinauta (Fusagasugá – Colombia) to reflect on the reality of our missionary work in this part of the continent.
The meeting began with a Eucharistic celebration presided over by Father Marcelo Araujo, coordinator of the Conference of Redemptorists of Latin America and the Caribbean. Priests, brothers and lay Redemptorists from Argentina, Chile, Uruguay, Paraguay, Brazil, Bolivia, Peru, Ecuador, Colombia, Venezuela, Central America, Puerto Rico, Dominican Republic, Cuba and Haiti participated in the meeting. Some, due to health restrictions, attended virtually, but the majority attended in person.
The first day began with the Eucharist and the virtual greeting of Father General Michael Brelh. He invited the participants to go ahead with the Apostolic Plan and the Reconfiguration Project.
Enrique López presented the Apostolic Plan as a set of guidelines for the projects and pastoral plans of each Province.
On the second day, Fr. Rogério Gomes (General Consultor) presented some elements of Reconfiguration in the light of the Apostolic Plan.
"It is important to pay attention to the risks that can occur in the process: the lack of participation, attachments, centralisation of administration, forgetting the mission and not being open to the action of the Holy Spirit", he said.
On the third day, Father Rógerio Gomes presented the decree of the general government for the formulation of the postulates.
Luis Carlos Jaime (Province of Bogotá) presented the formulation of the budgets and recalled the decisions taken at the Assembly in Mexico and the situation generated by the pandemic. Father Atanasio Hernández (Province of Bogotá) presented a format of economic administration suggested by the economic commission.
On the fourth day, Fathers Ramón Correa and Manuel Cruz presented the work of the formation commission of the Conference; we have a great challenge: how to transmit the Redemptorist charism to the new generations.
Then was time to present the work of the lay commission: Father Narciso Chinguel (Peru North), Sinay Tovar (Venezuela), Vanda Carvalho (Brazil) and Julio Chuquipoma (Peru) were in charge.
On the fifth day, the Brothers' commission presented a report on the situation of the Redemptorist brothers in Latin America and the Caribbean. The commission emphasised how vital the Redemptorist Brothers' formation is and underlined the meaning of consecrated life in the Congregation. In the afternoon, Fr. Rógerio Gomes gave a presentation on the Reconfiguration Plan, which deals with the transition from the old to the new units.
https://www.redentoristasdecolombia.com/
At the closing Eucharistic celebration, Fr. Rogerio Gomes pointed out the person of Mary. He said: "Mary is for us as a teacher in this process of restructuring. She encourages us to respond affirmatively to the project that God has entrusted to us, even if we do not know how it will happen. Here I am! Thy will be done in me! Magnificat anima mea Dominum! Perhaps we still lack the courage to begin to restructure ourselves from within. Mary did it in the first person! Her life was a constant restructuring!". (…) "Mary accompanies us in this task, as She accompanied Jesus… As a faithful companion of our Congregation from its origins, Mary continues to cover us with her mantle in the most difficult moments of our history. (…) She can inspire us to be faithful in our mission and persevere to the end, even if we have to go through the experiences of the pain of the Cross. But beyond the pain of the cross, there is always a resurrection and a Pentecost."
See the final message of the Assembly (Spanish)
Courtesy: Redemptorist Communications, Province of Bogotá